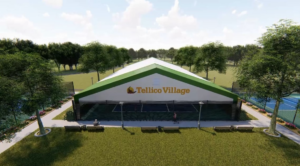 In September, 2020, the Timeless Tellico Foundation in conjunction with the Recreation Department and the POA, launched the Pickle Plex Project. The new Pickle Plex will consist of four courts added to the current courts at the Wellness Center. Planning for the new courts includes a roofed pavilion that will allow all-weather play. Central to planning for the Pickle Plex are four committee members who have navigated fundraising and the details for the project. In less than two years, Rich Karakis, Dan Cataldi, Gordon Young, Walt Cook, and Pete Kilmartin have taken their vision of the Pickle Plex toward completion. On Friday, June 17, 2022, all who pushed the project forward celebrated in a ground-breaking ceremony.
The idea for a pickle ball complex was part of the POA plan as of 2015, explained Marty Inkrott, POA president. Walt Cook, President of the Foundation, explained the obstacles facing the planners. Rising construction costs and material shortages doubled the anticipated cost over the two years of planning while COVID add more delays. Originally, the plan called for two phases of construction. Rich Karakis envisioned building the  courts first and then adding the pavilion. Over the two years, enough was raised to build those courts. However, in Spring 2022, the POA decided to fund the remaining work.
Through tournaments and social events, the Club raised $15,000. Generous sponsors added to the funding: Tennessee Orthopedics, Chapman Insurance Group, Citizens Insurance Solutions, RE/Max Excels, and Edward Jones. And individual members also contributed to bring the total to $240,000.
The PicklePlex was completed in October 2022, and on November 2, 2022, it officially opened. More work still needs to be done: viewing stands, ceiling fans, and screens. Meanwhile, donations are still welcomed. They can be made through the Timeless Tellico Foundation:
Cash can be left in the TTF donation envelopes at the Wellness Center and the Rec Center.
Credit card donations can be processed on the TTF website
Qualified Charitable Distributions can be made through the TTF.
Donor Advised Funds are also accepted, including cash, appreciated assets, or other non-publicly traded assets.
Gift levels will be permanently recognized at the new complex:
Medallion Level $300 and above
Ambassador Level

 

$500 and above
Champion Level

 

$1,000 and above
Legend Level

 

$2,500 and above
Pickleplex Construction Photos: